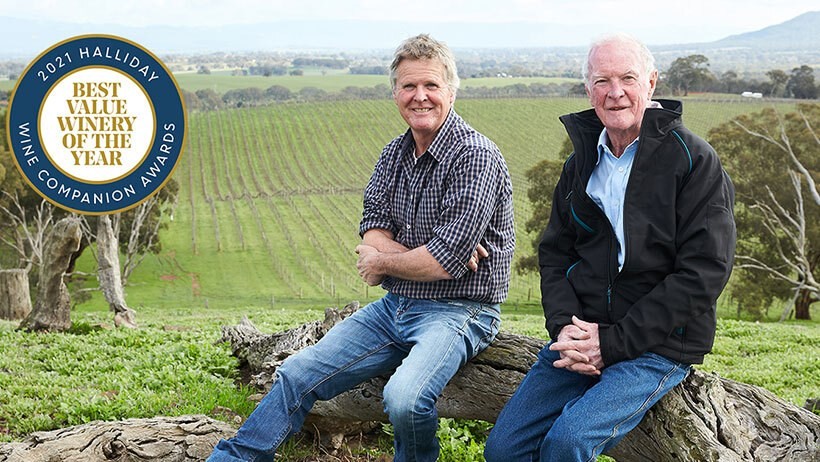 If I was to ask you about the Victorian wine regions, you know then you would probably respond pretty quickly with the Yarra Valley, Mornington Peninsula and possibly Heathcote, because they are mostly accessible from Melbourne. But most people are not aware of a number of excellent wine regions in western Victoria including the Grampians and wineries around the town of Great Western.
Situated two and a half hours drive from Melbourne, the town of Great Western is between the towns of Ararat and Stawell (better know for its annual foot race). Due to the altitude and location between a number if mountain ranges it is actually a cool climate region producing some renowned cool climate wines including Shiraz.
Just out of town to the north, is the Best's winery which was established in 1866 near the end of gold rush. Purchased by the Thomson family in 1920 it is one of Australia's oldest and continuously family-owned and operated wineries. A history to rival some of the better known wine regions.
I first came across Best's Great Western wines 20 years ago with an introduction to their Riesling and Bin 1 Shiraz.
Riesling loves cooler climates and long growing season which allows the fruit to ripen slowly whilst retaining acidity. The climate at Best's allows for this to happen and results in a Riesling that has classic citrus (lemon and lime), green apple, aromatic lemon blossom, minerality and fresh crisp acidity. This make is excellent match with seafood but especially shell fish e.g. prawns. Over time the acid softens and the wines develop depth with honeyed characters and sometimes a hint of petroleum on the nose. Excellent value and great ageing potential.
Best's make a number of Shiraz's at various price points but the Bin No. 1 Shiraz is arguably the best value. It's cool climate so don't expect a big fruity high alcohol wine but more restrained dark fruits (plum and blackberry) with savoury flavours of black olive, fruit spice and hints of black pepper and mint. Great with a steak but also with game meats such as kangaroo and venison. As it ages it will develop cedar and leather characters along with softer tannins. Amazing value for such a complex wine and it will reward ageing.
Some other notable Best's wines to look out for include:
Foudre Ferment Riesling. Most Riesling is fermented in Stainless Steel but this Riesling is fermented in Foudre which are 2500L French oak barrels. The large size of the barrel and it's old age mean that it doesn't impart any overt oak flavours but rather changes the style of Riesling.
Bin No. 0 Shiraz. Selected from the oldest low yielding vineyards the grapes are hand picked, sorted, fermented in small batches and then aged in oak for 18 months. Still in the cool climate style but showing much more power and elegance. A wine that really benefits from aging to show it's full potential.
If you would like to try the wines covered in this article, amongst others, with matching food then Wine Matchmaker is running a Best Great Western wine event on the 31st of July as the Life's Too Short Bar in East Melbourne. This event is limited to 20 people and bookings can be made here.
If you can't make it to the event we encourage you to try some Best's wine for yourself or Wine Matchmaker can organise a corporate or private guided tasting in your premises or ours. For a no obligation discussion please free to email me info@winematcmaker.com.au.
Cheers,
Antony.