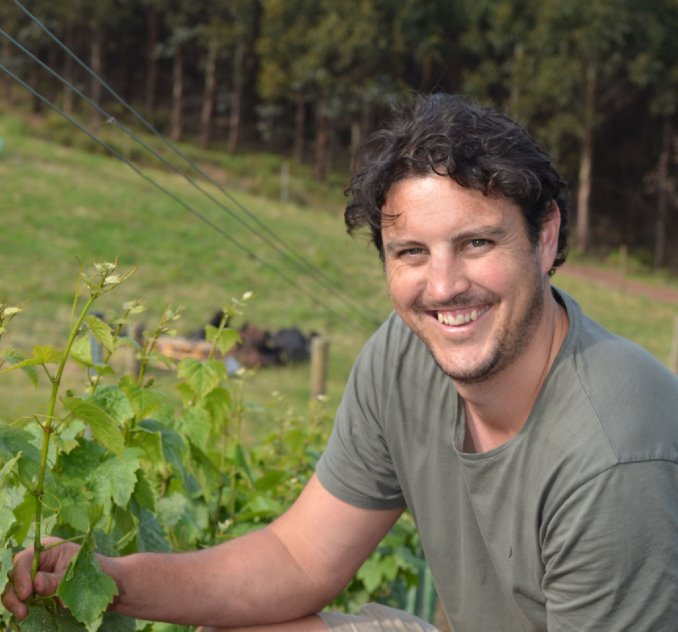 In my last article I wrote about one of my favourite wineries, Richmond Grove, that unfortunately doesn't exist any more but lives on through the few bottles we have left. In that article (which you can read here) I made a statement that is even more relevant in this article.
It is the people behind the wine that put a little bit of themselves into it, and the wine tells their story long after the bottle is opened. It is these people and stories that add so much to the wine experience for me.
This was driven home to me this week with the passing of one of my favourite winemakers Vaughn Dell from Sinapius Vineyard in Northern Tasmania. He was only 39 and leaves behind a wife, who was his partner in wine, as well as two daughters. He was one of those larger than life characters full of enthusiasm and eager to share his wine and passion.
Some of you will be aware that one of the highlights of our wine calendar is the annual Pinot Noir showcase,hosted by Michelle at the Pinot Shop in Launceston every July (September this year). Mrs Wine Matchmaker will tell you that I get quite excited about the event as it is the opportunity to try the best Pinot Noir Tasmania has to offer, a lot of which is produced in such small quantities it doesn't really leave the island. The tastings are normally presented by the winemakers themselves and, over the years, we have gotten to know many of them quite well and experience their famous Tasmanian hospitality.
About five years ago we were at the Pinot Noir Showcase, and tucked up the back corner was this tall young gangly guy with a scruffy hair and a goatee. When I saw him the first thing I thought was he looked like Shaggy from Scooby Doo. For us that was how he's been known ever since.
Shaggy's real name was Vaughn Dell and, to my pleasant surprise, he was actually the winemaker. We had a quick chat and, in typical Vaughn style, he eagerly poured us some of his wine and explained his vision behind it. His passion came through in the wine with its bright fruit (cherry and strawberry) on the nose, but it was on the palate that the wine really shined. It was young and fruity but drank like liquid velvet with a hint of smoke and earth. That wine had a long smooth finish with a backbone of fine tannin that just tied everything together nicely. And for the price it was a bargain.
Like many things in wine, first impressions can be misleading, and so it was with Vaughn. When you looked as this young shaggy looking dude you sort of expected some alternative hippy wine, but this wine was made by someone with skill and passion beyond their years. Let's just say there was always a bottle or two of Sinapius in our wine orders.
Over the years Vaughn got a bit more serious, and so did his wines. He shaved, cut his hair and started experimenting with planting densities and production methods, but he never lost his passion for wine or sharing it. We saw Vaughn for the last time at the Pinot Showcase last July, had a good chat and introduced some friends to him. They thought he was great and loved his wines too. But for us,Vaughn will always be Shaggy – that young character who made great wines of passion that we loved.
Vail Vaughn … we will miss you at this years Pinot Noir showcase, but will remember you through your wines. If you would like to read more about Vaughn here is quite a good article from the Tasmanian Times.
Cheers,
Antony.